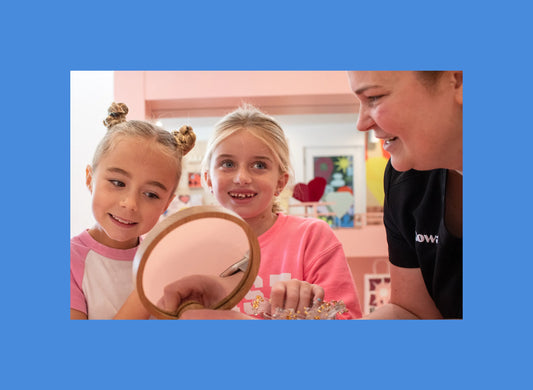 Piercing for kids.
We understand, when it's your first piercing, the nerves are especially bad. But our licensed Nurses are trained to provide a safe, fun, and celebratory piercing experience for our tiny guests.
FAQ
All your piercing questions answered. For more, contact us.
How old does my child have to be to get a lobe piercing?

We pierce babies over the age of 2 months. For piercings on children under 5 years old, we require one DTaP vaccine, which is administered at 2 months old.

How old does my child have to be to get a cartilage piercing?

In select locations, we can perform cartilage piercings on children of 12 years of age or older. Please see your local piercing location to ensure we have that offering available.

Do I need to bring an ID for myself and my child?

For minors under 18, a parent or guardian is required to be present for the piercing. We will not ask for the child's ID, but we will ask for the parent/guardian's ID.

Do you pierce with piercing guns?

We do not use a piercing gun! Rowan nurses use a hand-pressurized instrument. This uses the pressure (and complete control) of a Rowan nurse's hand to safely guide, place, and pierce! This instrument holds a sterilized single-use cartridge containing the sterile starter stud earrings that pierce the ear. Unlike piercing guns, which use spring loaded mechanisms to forcefully pierce, a hand-pressurized instrument allows for a gentle and direct control with each and every piercing.
Why Rowan?
Learn more about piercing at Rowan.