Your Comprehensive Guide to Push Pin Flat Back Earrings
Everything You Need to Know About Push Pin Flat Back Earrings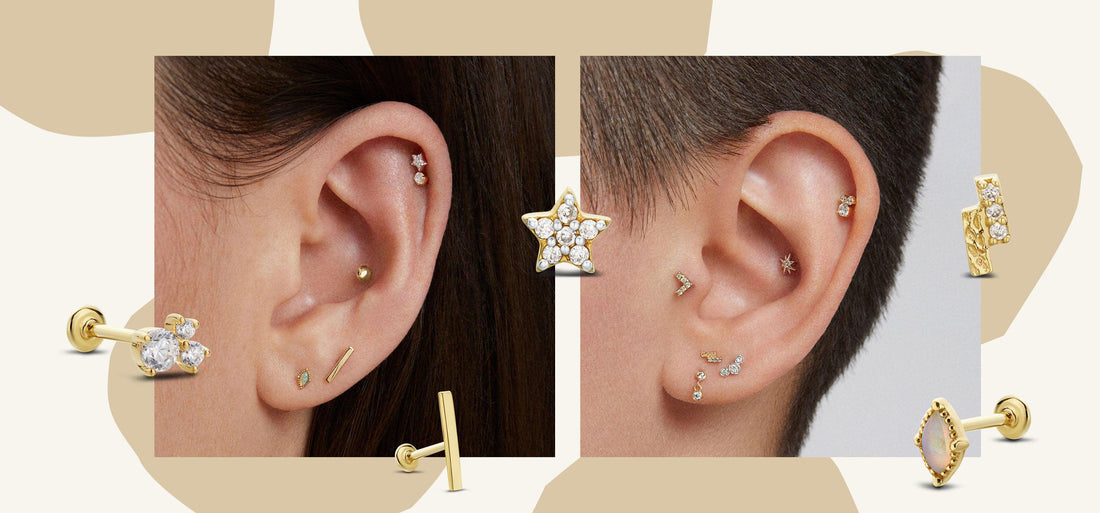 If you're like us, you probably want to wear beautiful earrings 24/7 without discomfort or worrying that they will fall out. Difficult-to-place earrings and backs that dig into your skin are a thing of the past with our latest release - push pin flat backs. Designed in-house with careful research and nurse input, you're sure to love this latest collection! 
What is a Push-Pin Flat Back Earring?
It's just as it sounds - the flat back can rest comfortably against your ear without causing discomfort, and the front of the earring inserts like a push-pin. They can be worn 24 hours a day and are great to sleep in.  Unlike a screw-back or butterfly-back earring, a push-pin flat back earring has a separate front piece that is joined to the post with a small, bent stainless steel pin.  The front and back are held together securely by tension and are very easy to place in your piercing.  
What Makes Rowan's Flat Backs Better Than Other Brands?
Our signature Rowan posts are specifically engineered to be safer and cleaner than old-school earring backs.  They are designed in-house with our nurses, backed by careful research to ensure optimal safety and comfort.  Our posts are small enough that you'll forget you're wearing them but also big enough that they won't pull through your piercings.  They're easy to clean with their smooth, highly polished surfaces - making trapped bacteria a thing of the past!
This new collection is made of hypoallergenic 14k yellow or white gold. The front pieces feature a pin made of hypoallergenic stainless steel that rests inside the post.  This pin is responsible for keeping tension inside of the post, thus making your earring secure.  We have a variety of styles to choose from, including beautiful genuine diamonds and signature designs exclusive to Rowan. 
In What Piercings Can a Flat Back Be Placed?
Flatbacks are ideal for almost all piercings, new and old!  Lobes, helix, flat, conch, and tragus piercings can all support flat back earrings.  Rowan's innovative flat back earrings feature a slightly rounded disc-shaped back to allow for maximum comfort and airflow to your ear - a must for any piercing!
Nurse Tip: Although you can wear these styles 24/7, removing the earrings regularly to clean your healed piercings is also important to keep your skin healthy and your jewelry sparkling. 
Choosing the Right Post Length
We offer two lengths in our flat backs: 6mm (¼")  and 8mm (5/16"). Choosing the right length post for your piercings is critical in avoiding any irritation or friction bumps.  For most healed piercings (piercings anywhere from 6-12 months established or more), a 6 mm post will fit anywhere on the ear comfortably.  
In some cases, earlobes may be thicker and require a longer post.  Our 8 mm flat backs are perfect in this situation.  If you have a tragus piercing, or if you have any cartilage piercing that swells, an 8 mm may also be the right size for you.  
How do I Place a Push Pin Flat Back Earring in my Piercing?
It's very simple - we promise!  First, you'll remove the front of the earring from the post.  Insert the post from the back of your piercing.  While holding the post securely, push the front of the earring into the post firmly to secure it in place.  That's it! 
If you're a visual learner, we have included a video below to walk you through placing a push pin flat back.
Will a Push Pin Flat Back Earring Fall Out of My Piercing More Easily?
Not at all!  The front of the earring has a smaller stainless steel pin that is bent on purpose. This bend creates tension when placed inside the post, holding your jewelry together securely and easily.  
As long as the stainless steel pin is bent enough, you won't have any issues with your earring falling out. It's very important to make sure this pin is bent before attempting to place the jewelry in your piercing.
In order to make sure there is enough tension, place the front piece into the post before attempting to place the earring in your ear.  Give the the front piece a little tug to ensure that it is fitting snuggly into the post.  If it feels lose, remove the front piece and slightly bend the pin  (the piece that fits inside of the post) with needle nose pliers to enhance tension and create a secure fit.